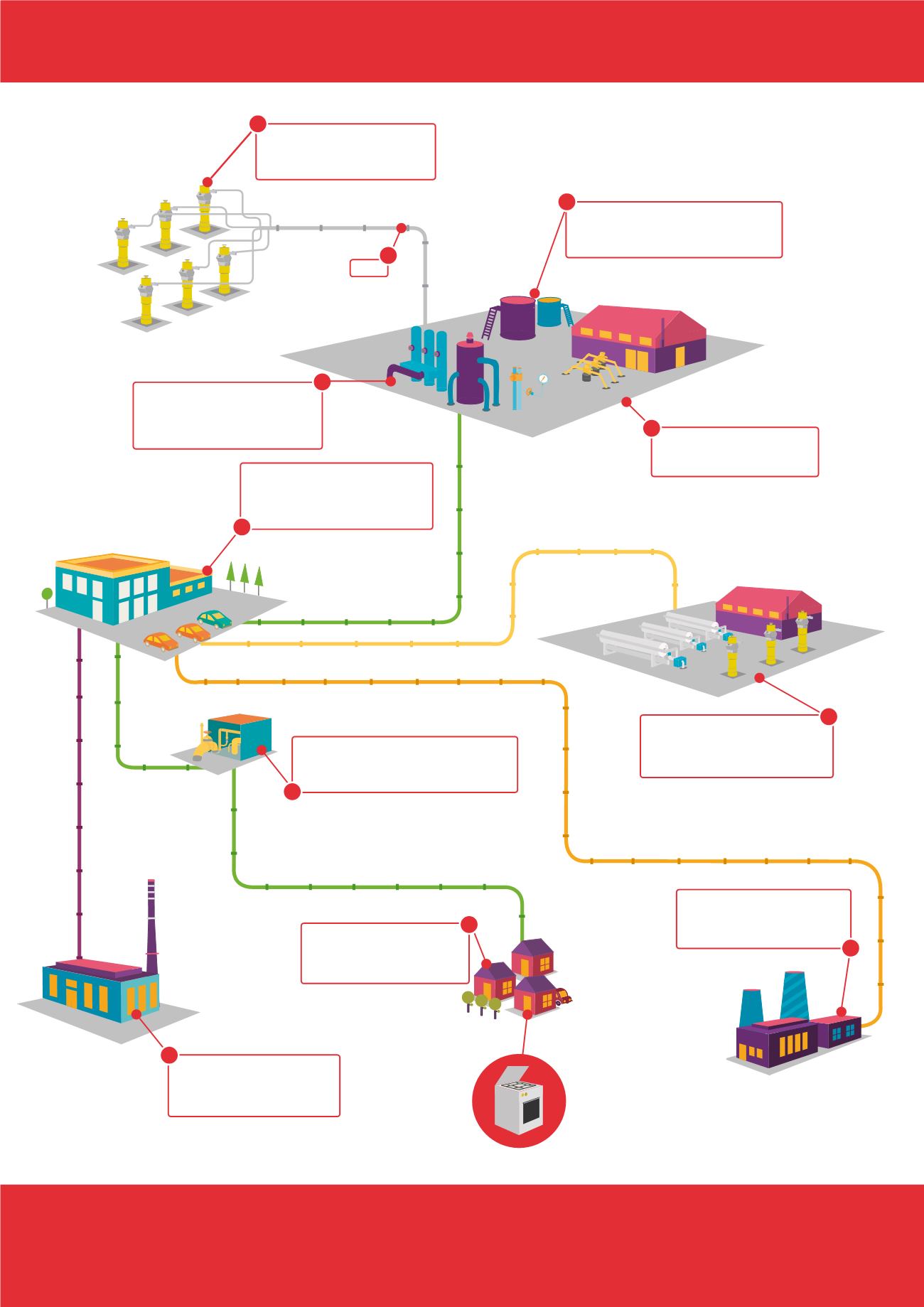 gathering pipeline system
Gas used in mass production
(e.g., in chemical plants or
Individual consumers of gas,
which used in gas cookers or
(in natural geological formations)
or surface storage (in gas tanks).
Pressure reduction and monitoring station
Adjusts the pressure and controls
the quantity of gas flowing through.
Gas transmission and distribution
To compress gas and adjust
Tanks used to collect water separated from
gas during the process of dehydration.
Gas treatment instalation
Dehydration of gas, removal
which is necessary for district
PRODUCTION, DISTRIBUTION AND USE OF NATURAL GAS
THE DIAGRAM SHOWS THE ROUTE GAS TAKES FROM BEING BROUGHT TO THE SURFACE TO FINDING ITS WAY TO THE END USER (E.G., A DETACHED
HOUSE OR A DISTRICT HEATING PLANT). NATURAL GAS, AS EXTRACTED FROM A BOREHOLE, DIFFERS SIGNIFICANTLY FROM THE GAS USED IN OVENS
OR BOILERS. ITS PROPERTIES CHANGE, MAINLY DURING ITS PROCESSING IN A GAS PROCESSING PLANT, WHERE IT IS DEHYDRATED, PURIFIED AND
ODORIZED. THEN IT IS PRESSURISED AND TRANSPORTED BY PIPELINE TO STORAGE, INDUSTRIAL PLANTS, OR HOUSEHOLDS. THE TRANSMISSION OF
GAS IS MANAGED BY SPECIALISED COMPANIES AND INSTITUTIONS KNOWN AS TRANSMISSION AND DISTRIBUTION NETWORK OPERATORS.